Bedrooms are available as a private or a two person semi-private accommodation. The rooms are fully furnished. The tastefully appointed rooms have twin sleigh beds, bedside lamps, marble-topped dresser, mirror, comfortable chairs, and a decorative bedside area carpet. Most rooms include a drop-leaf writing table.


Most bedrooms have a spacious closet, many with additional storage above.


All bedrooms are wired for bedside phones and are cabled for television. Internet service is available through a private provider.


All bedrooms are air conditioned. They are heated with humidified hot air for comfort to avoid static dryness.


A bedside cart doubles as a nightstand or can be used as a base for a mini-refrigerator. When used in conjunction with the eye-level cabinet above, it creates a personal food and beverage area.


A three speed ceiling fan is integrated with an overhead light. Additional lighting is installed above the marble top dresser in most rooms.


Each room has an emergency pull-cord alert system. All bedrooms are installed with a fire sprinkler and also have a smoke and heat detector; several rooms have strobe lights for the hearing impaired.


Decorate your bedroom with your personal pictures and mementos. Guests occupying a private accommodation may opt to have their own furniture. All electrical devices including televisions must be approved by the Administrator.


Click on a picture below for a larger image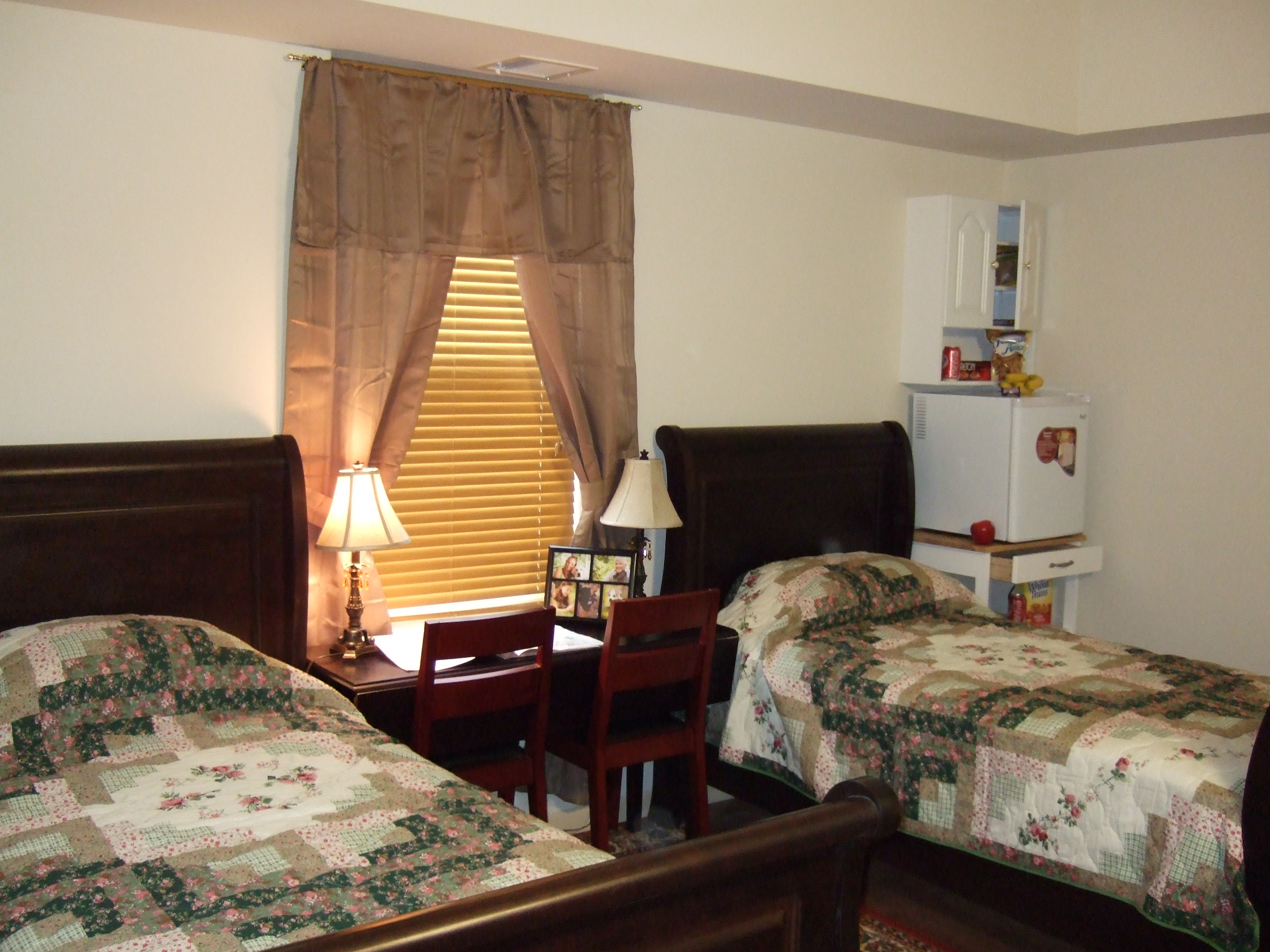 The common areas feature 9' high ceilings, three living rooms, two dining rooms, a dedicated smoking room, spacious hallways with handrails, a 10'x36' deck, and sitting areas inside and out.


The largest living room has a large flat screen television and features oil paintings in a Mediterranean style, large gold framed mirror, along with a cupid in the alcove. The comfortable leather seating accommodates fourteen guests.


The sports-themed living room is decorated with memorabilia of a by-gone era. It is designed to be casual and features a large flat screen television. The comfortable individual leather armchairs seat twelve guests.


Another casual living room is located close to one of the bedroom areas. It features a flat screen television. The individual leather armchairs seat seven guests.


The grand dining room is decorated in an informal Mediterranean style and seats twenty guests. The 10'x36' deck abuts the outside wall and is used for convenient summertime cookouts.


The smaller dining room is designed in an open style and can easily accommodate wheelchairs. It is decorated in an informal mediterranean style and seats fourteen guests.

Both dining rooms double as activity areas.


Smoking is not allowed except in the dedicated smoking room. This room features tile floors, fireproof seating, a powerful exhaust fan, and an outside exit. The smoking room seats ten guests.

Bathrooms are designed for privacy and ease of use.


Enjoy the 100+ art pieces and paintings throughout the building.


The inside common areas are fire protected and ADA compliant.


A telephone is available for general use free of charge.




Click on a picture below for a larger image